Speedlock Rotating Quick Coupler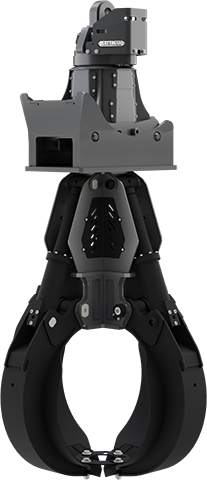 B16FC
Revolutionize your work with the SpeedLock Rotating Quick Coupler, an innovative automatic coupling system designed to streamline material handling operations. Experience the future of efficiency as you change hydraulic attachments in a mere 15 seconds, boosting your productivity to new heights.
15-Second Attachment Changes
Visual Mechanical Lock Indicator
Seamless Swap of Electrical and Hydraulic Attachments
360º Continuous Rotation
UNPARALLELED DESIGN FOR PRECISION AND PERFORMANCE
Crafted to perfection, the SpeedLock Quick Coupler stands as an adjustable marvel, purpose-built to enhance your material handling machines. A powerful 360° rotator takes center stage, seamlessly integrated with our robust hydraulic quick coupler. Ingeniously equipped, the SpeedLock redefines ease of use and durability.
NEXT-LEVEL RELIABILITY WITH MECHANICAL LOCK ASSURANCE
Bid farewell to unreliable electronic signals! Unlike traditional systems prone to electronic failures leading to downtime, the SpeedLock boasts a Mechanical Lock Indicator. Rest assured, every connection is soundly secured, eliminating any uncertainty, and supporting your workflow.
Precision-engineered connection process, instilling confidence in every attachment change.
Seamless activation of machine hydraulics, minimizing downtime and maximizing productivity.
Game-changing design for suspended attachments, setting the standard for future-ready solutions.
Backed by a combination of three decades in rotating & coupler systems expertise.
Rapid ROI, flexibility, and less machines for same volume of productivity.
Instant, secure connections – effortlessly switch hydraulic, mechanical, and electrical tools from the comfort of your cab.
Field-proven excellence with the Bateman legacy – trusted by countless job sites.
Unrestricted flexibility with 360° of continuous rotation, powered by a heavy-duty motor.
Electric swivel integration eliminates cable clutter, enabling hassle-free use of lifting magnets.
TECHNICAL SPECIFICATIONS
| Model | B16FC70 |
| --- | --- |
| Height | 45.5" |
| Width | 24.3" |
| Length | 37.53" |
| Coupler Weight | 530 lbs |
| Rotator Weight | 450 lbs |
| Adapter Weight | 511 lbs |
| Max. Lift Capacity | 33,000 lbs |