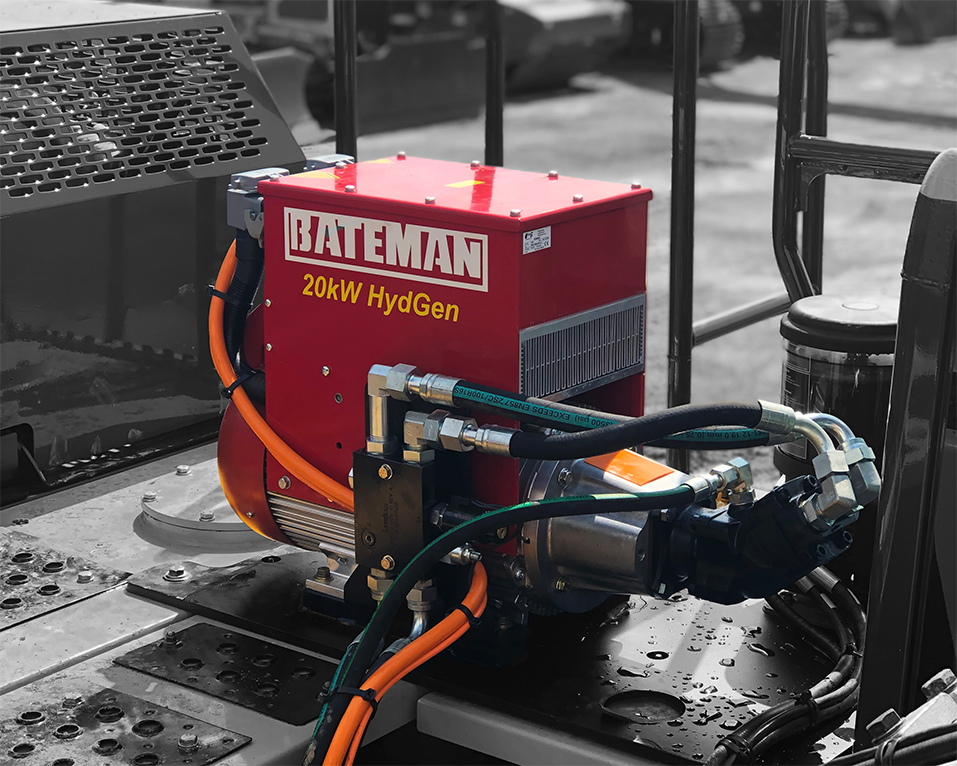 HYDGEN Models
Bateman Hydraulic Drive Generator Kits Are Purpose Built, Machine Specific To Allow For Fast Excavator Conversion Installations Or Other Material Handling Scrap Applications. Benefits Include: Adjustable Power Output Limit, Adjustable Torque Control, Six Selectable Lift/Drop Operator Modes, Integrated Real Time Performance Display & Replaceable Short Circuit Protection Device.
Compact & Safe.
Detects Equipment Failure.
Output Ranges From 9kW - 30kW
Can Be Programmed As Needed.
Diesel Generators For Excavators & Material Handlers.
Various Models Available Depending On Speed Of Controller, Current Type (AC/DC) & Voltage.
Bateman Hydraulic Generators can be matched to many styles of scrap magnets, either dangling or with pin-on attachments. AC/DC Hydraulic Generator. This generator is compact. It contains a priority valve for the auto adjust dual pump. It is designed to properly control our magnets during operation. Controller. We also carry an intelligent and programmable controller if required, which appropriately manages your magnet power and detects equipment breakage. Depending on the installation, either a dedicated pump, or a simple flow control device is used to define the exact hydraulic flow to match the generator size and drive motor. A 24Volt control valve provides the oil supply when energized. All circuits are protected by an adjustable relief valve with the addition of an anti-activation loop to protect the hydraulic motor.
Solid State Electronic Controller. These Generator Are An Ideal Match For The Bateman Line Of Magnet Grapple, Waste-Mag, Demo-Mag or Mag Buckets.
TECHNICAL SPECIFICATIONS
COMPATIBILITY
Caterpillar Generators- Cat 315C-316D, Cat 320C-320F, Cat 321C-324D, Cat 326-329E, Cat 330C-336F & Cat 330D MH-WH.

Doosan Generators- Doosan DX180-210W, Doosan DX255LC-3, Doosan DX255LC-5, Doosan DX300LC-3 & Doosan DX300LC-5.

Hitachi Generators- Hitachi 190W, Hitachi ZX135US-5/6, Hitachi ZX200-ZX290, Hitachi ZX230W-5 & Hitachi 470LC-6.

Hyundai Generators- Hyundai R220LC9A & Hyundai R320LC-9.

John Deere Generators- John Deere 160, 200 & 300 & John Deere 450 2 & D

Kobelco Generators- Kobelco SK210-290 & Kobelco SK 350LC-9.

Link-Belt Generators- Link-Belt 210-290 & Link-Belt 330LX.

Sany Generators- Sany 210-235.

Volvo Generators- Volvo 210, 240-300 & Volvo 330-380.
Many More Generator Compatibilities: Bobcat, Case, Komatsu, Kubota, Liebherr, Mustang, New Holland, Sennebogen, Takeuchi, Terex, Yanmar. Request Quote For More Information!