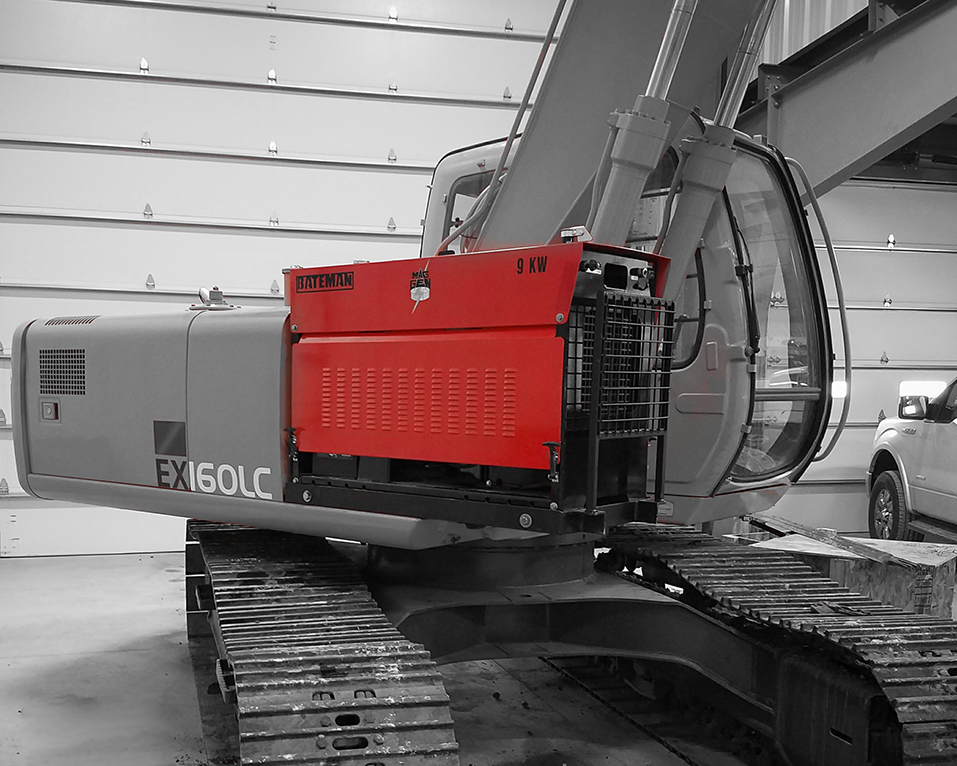 MAGGEN Models
Bateman Continues To Offer The Scrap Industry The Best Performing, Most Reliable Diesel Powered Generator On The Market. All Bateman Diesel Generator Kits Are Supplied With Cables & Controls. Pair Our Dependable Generators With a Bateman Mag-Grab, Demo-Mag, Bucket Mag, or Scrap Mag.
Ranges From 9kW - 30kW

Most Reliable On The Market.

Cables & Controls Included.

Perfect Match For Magnetized Attachments.

Diesel Generators For Excavators & Material Handlers.
TECHNICAL SPECIFICATIONS
COMPATIBILITY
Caterpillar Generators- Cat 315C-316D, Cat 320C-320F, Cat 321C-324D, Cat 326-329E, Cat 330C-336F & Cat 330D MH-WH.

Doosan Generators- Doosan DX180-210W, Doosan DX255LC-3, Doosan DX255LC-5, Doosan DX300LC-3 & Doosan DX300LC-5.

Hitachi Generators- Hitachi 190W, Hitachi ZX135US-5/6, Hitachi ZX200-ZX290, Hitachi ZX230W-5 & Hitachi 470LC-6.

Hyundai Generators- Hyundai R220LC9A & Hyundai R320LC-9.

John Deere Generators- John Deere 160, 200 & 300 & John Deere 450 2 & D

Kobelco Generators- Kobelco SK210-290 & Kobelco SK 350LC-9.

Komatsu Generators.

Link-Belt Generators- Link-Belt 210-290 & Link-Belt 330LX.

Sany Generators- Sany 210-235.

Volvo Generators- Volvo 210, 240-300 & Volvo 330-380.
Many More Diesel Generator Compatibilities Available. Request Quote For More Information.
Options
Bateman Diesel Powered Generators Range From 9kW-30kW.
Hydraulic Generators Available.